2019 All matches Schedule

Everton Football Club is a professional English club who competes in the Premier League and they are a top-flight team. The Club is based in Liverpool England and their home ground is Goodison Park in Walton, Liverpool since 1892. They are nicknamed as "The Toffees" and The Blues as well, their manager is Marco Silva. The team is owned by Iranian Businessmen Farhad Moshiri and the chairman of the club is Bill Kenwright. The jersey of the team is royal blue shirts with white shorts and socks for home matches. Everton supporters are known as The Evertonians and the club rivalry in matches is against Liverpool Football Club.

The club was founded back in 1878 and they are also the founding members of the Football League in 1888. Everton won their 1st League Championship 2 seasons later, following 4 League Championships and 2 FA Cups. They had experienced a quiet period during world war II, then revived in the 1960s. The revival of the club leads them to win 2 League Championships and 1 FA Cup. In the mid-1980s period, they showed the consistency of winning and got 2 League Championships, and 1 FA Cup. The Blues also get the 1985 European Cup Winners' Cup. Everton has played record 116 seasons in the top division, only miss 4 times in the 1930-31 season and 3 in a row from 1951-52.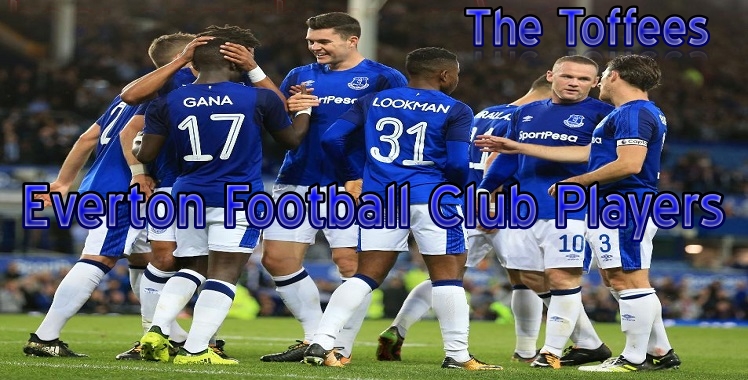 The Blues has won several titles which are mentioned below:
9 times League Championship (4th most by an English Club)
5 times FA Cup (9th most team to do so)
1 time UEFA Cup Winners Cup

Watch the live streaming of all the Everton matches in Premier League, FA Cup, Carabao Cup, and others on our website. Get all matches of Premier League and other Cups live in HD quality by subscribing our Premium packages. We provide different packages for different budgets but they all are cheapest from the market. So, without wasting your time watch all live games of Football on your smart devices like Android, iPhone, iPad, etc.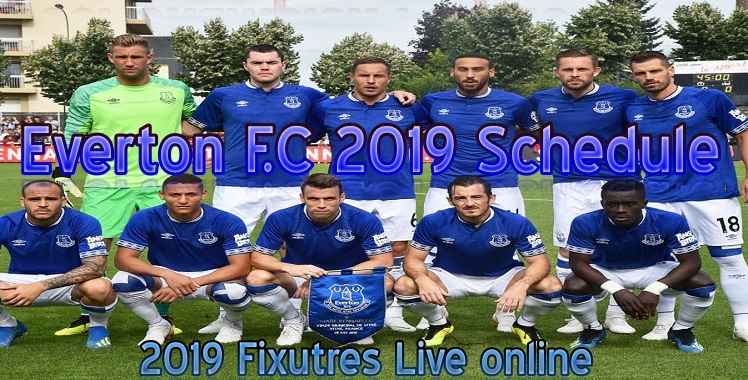 Following are the Schedule of Everton 2019 matches:
DATE

VERSUS

GAME

VENUE

Sat 10 Aug 2019

VS

Crystal Palace

Premier League

Selhurst Park, London

Sat 17 Aug

VS

Watford

Premier League

Goodison Park, Liverpool

Fri 23 Aug

VS Aston Villa

Premier League

Villa Park, Aston Villa

Sun 1 Sept

VS

Wolves

Premier League

Goodison Park, Liverpool

Sun 15 Sept

VS

Bournemouth

Premier League

Dean Court, Bournemouth

Sat 21 Sept

VS Sheffield Utd

Premier League

Goodison Park, Liverpool

Sun 29 Sept

VS

Man City

Premier League

Goodison Park, Liverpool

Sat 5 Oct

VS

Burnley

Premier League

Turf Moor, Burnley

Sat 19 Oct

VS

West Ham

Premier League

Goodison Park, Liverpool

Sat 26 Oct

VS

Brighton

Premier League

Falmer Stadium, Brighton

Sat 2 Nov

VS

Spurs

Premier League

Goodison Park, Liverpool

Sat 9 Nov

VS

Southampton

Premier League

St Mary's Stadium, Southampton

Sat 23 Nov

VS Norwich

Premier League

Goodison Park, Liverpool

Sat 30 Nov

VS

Leicester

Premier League

King Power Stadium, Leicester

Wed 5 Dec

VS

Liverpool

Premier League

Anfield, Liverpool

Sat 7 Dec

VS

Chelsea

Premier League

Goodison Park, Liverpool

Sat 14 Dec

VS

Man Utd

Premier League

Old Trafford, Manchester

Sat 21 Dec

VS

Arsenal

Premier League

Goodison Park, Liverpool

Thu 26 Dec

VS

Burnley

Premier League

Goodison Park, Liverpool

Sat 28 Dec

VS

Newcastle

Premier League

St James' Park, Newcastle

Wed 1 Jan 2020

VS

Man City

Premier League

Etihad Stadium, Manchester

Sat 11 Jan

VS

Brighton

Premier League

Goodison Park, Liverpool

Sun 18 Jan

VS

West Ham

Premier League

London Stadium, London

Tue 21 Jan

VS

Newcastle

Premier League

Goodison Park, Liverpool

Sat 1 Feb

VS

Watford

Premier League

Vicarage Road, Watford

Sat 8 Feb

VS

Crystal Palace

Premier League

Goodison Park, Liverpool

Sat 22 Feb

VS

Arsenal

Premier League

Emirates Stadium, Arsenal

Sat 29 Feb

VS

Man Utd

Premier League

Goodison Park, Liverpool

Sat 07 Mar

VS

Chelsea

Premier League

Stamford Bridge, Chelsea

Sat 14 Mar

VS

Liverpool

Premier League

Goodison Park, Liverpool

Sat 21 Mar

VS Norwich

Premier League

Carrow Road, Norwich

Sat 4 Apr

VS

Leicester

Premier League

Goodison Park, Liverpool

Sat 11 Apr

VS

Spurs

Premier League

Tottenham Hotspur Stadium

Sat 18 Apr

VS

Southampton

Premier League

Goodison Park, Liverpool

Sat 25 Apr

VS

Wolves

Premier League

Molineux Stadium, Wolverhampton

Sat 2 May

VS Aston Villa

Premier League

Goodison Park, Liverpool

Sat 9 May

VS Sheffield Utd

Premier League

Bramall Lane, Sheffield

Sun 17 May

VS

Bournemouth

Premier League

Goodison Park, Liverpool